SEACOAST MOM AND BABY EXPO TO DONATE HUNDREDS OF DIAPERS TO HOPE ON HAVEN HILL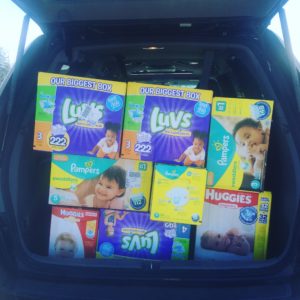 Eliot, ME – The 10th Annual Seacoast Mom and Baby Expo will donate one diaper to Hope On Haven Hill for every ticket sold to the Expo on Saturday, October 22nd.
Hundreds of moms, moms-to-be, dads, babies and grandparents are expected to attend the Seacoast Mom and Baby Expo on Saturday, October 22nd at the Regatta Banquet and Conference Center in Eliot, ME from 10:00am – 6:00pm.
"This is the tenth annual Seacoast Mom & Baby Expo and we wanted to find a way to give back to the community as part of the celebration," says Jonathan Sauers, Show Director.  "Hope on Haven Hill is doing such important work for moms and babies in the community and we want to help."
The Seacoast Mom and Baby Expo is sponsored by Wentworth Douglass Hospital, Convenient MD, York Hospital, Garrison Women's Health Center, ChildLight Yoga, Dover Doula and Z107.1 and 95.3 The Bull.  The Expo also features more than 60 vendors dedicated to the health and wellness of local young families.
The Seacoast Mom and Baby Expo provides a fun, educational way for Seacoast area moms and moms-to-be to explore all the wonderful resources available to new families in the area.   Highlights include a Toddler Play Area sponsored by G.Willikers! Toy Shop, free face painting at the Convenient MD booth, free Stonyfield Yogurts from the Stonyfield Yogurt Truck from 11:00am – 2:00pm, a Birth and Postpartum Doula Q&A at 12:00Noon featuring a panel of local doulas, and free mom and baby yoga classes.   See the full seminar schedule at seacoastmomandbabyexpo.com.   The Seminar Room is sponsored by York Hospital.
A quiet Nursing Nook, sponsored by Wentworth Douglass Hospital, will be available so that parents have a separate space for feeding and changing their babies if needed.
Admission is $5 for adults.  Kids and babies are free.
For more information www.seacoastmomandbabyexpo.com
Hope on Haven Hill's mission is to provide a nurturing therapeutic home environment for pregnant women with substance use disorder who are seeking recovery.  Their goal is to provide a safe home with comprehensive addiction treatment services, family therapy, parenting classes, advancement in education and life coaching we will support families in their recovery from addiction. An enriched self-esteem, confidence and a tool belt full of life skills will promote independence and sustained sobriety.   www.hopeonhavenhill.org
*          *           *
MEDIA CONTACT: Jonathan Sauers